TUGBOAT HERO 8000 PUFFS DISPOSABLE VAPE  equipped with 1.0Ω mesh coil, built-in 500 mAh battery, with TYPE-C charging interface, super-thin box, easy to carry, and provides you with a lasting and satisfactory vaping experience until the e-juice finish.
Specifications:
1.Puffs: Appro 8000 puffs,
2.Ejuice Capacity: 18ml,
3.Nicotine Strength: 5%,
4.Resistance: 1.0ohm Mesh Coil,
5.Battery Capacity: 500mAh,
6.Charging Port: Type-C.
Packing Details:
1*Tugboat Hero 8000 Puffs,
10PCS/Pack,
200PCS/Carton.
Flavors of TUGBOAT HERO 8000 PUFFS DISPOSABLE VAPE :
Lush Ice,
Strawberry Mango,
Purple Rain,
Aloe Grape,
Mango Melon,
Watermelon Bubble Gum,
Guava Blue Razz,
Black Mamba,
Red Energy,
Cool Mint.
Introducing the Tugboat Hero 8000 Puffs, a revolutionary disposable  pen that will surely impress vaping enthusiasts. With an astounding 8000 puff capacity, this device boasts one of the highest puff counts in the market, providing users with a long-lasting vaping experience without the need for refills or battery replacements.
This disposable vape pen features an 18ml e-juice capacity and a 5% nicotine strength, delivering a smooth and satisfying vape experience that is sure to satisfy your cravings. It also comes equipped with a 1.0ohm mesh coil, which provides a consistent and smooth draw, ensuring that every puff is as enjoyable as the first.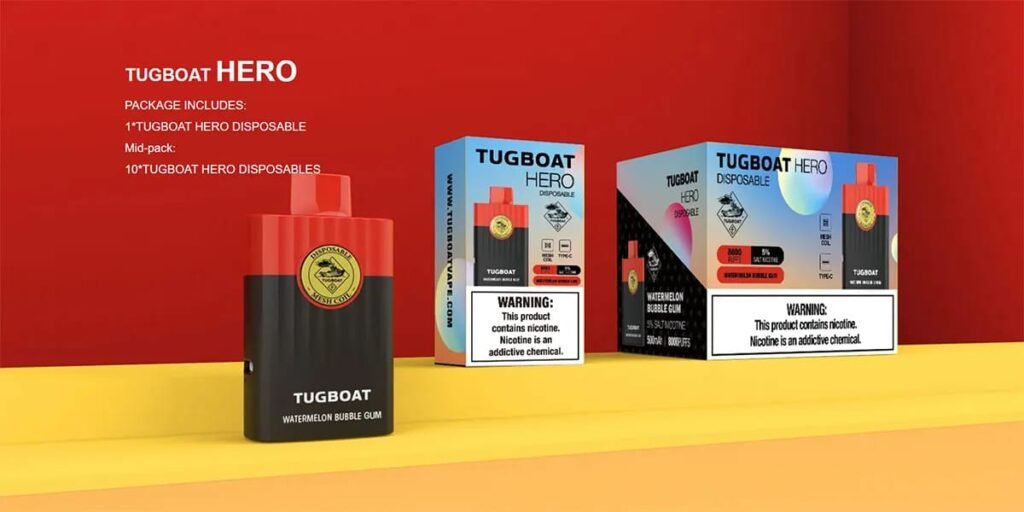 Warning: This product contains nicotine. Nicotine is an addictive chemical.