TUGBOAT SUPER 7000 PUFFS POD KIT is equipped with 1.0Ω mesh coil, built-in 500 mAh battery, with TYPE-C charging interface, super-thin box, easy to carry, and provides you with a lasting and satisfactory vaping experience until the e-juice finish.
TYPE-C
TYPE-C interface,  fast charging,
to ensure a lasting satisfaction.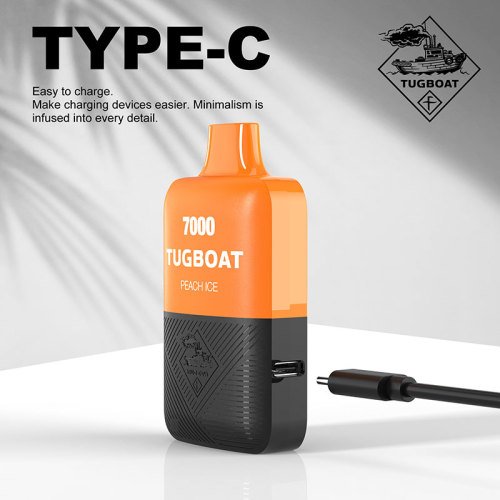 FLAVORS STORM
8ml prefilled e-juice, 12 fruit flavors to fill your taste buds and meet your needs.
Puffs: Appro 7000 Puffs/12000 Puffs,
Ejuice Capacity: 8ml/14ml,
Nicotine Strength: 5%,
Resistance: 1.0ohm Mesh Coil,
Battery Capacity: 500mAh,
Charging Port: Type-C.How often should you pull a vape?
Your wicks need to get saturated before you hit another vape. Generally, 15 to 30 seconds are enough before you take another hit, but you can wait longer, especially if you are experiencing dry hits more often.
What are the benefits of vaping?
Benefits of vapingWhat are the benefits of vaping?
Can I refill my disposable vape?
This makes disposable vape pens very convenient and greatly affordable! When your e-liquid runs out, the replacement method is to buy a new cartridge or even better refill the cartridge in your device to save the extra cost. So can you refill a disposable vape? The answer is Yes, you can
Is tugboat vape safe?
What is in the Tugboat vape liquid? Juices based on salt nicotine are used for refills – this is the main ingredient. Natural flavourings are added to get some flavour. When heated, they also do not emit any dangerous substances and are safe for humans.
How much nicotine is in tugboat?
Its nicotine content is less than 5%. With its integrated coil, you can adjust the strength and intensity of the vapour by yourself, adapting to all conditions and desires.
TUGBOAT SUPER POD