VOOPOO ARGUS POD KIT 40 W 1500mah
DOUBLE POD DOUBLE
HAPPINESS
ARGUS takes mod pod performance and experience to a whole new level. With dual pods of 4.5ml and 2ml capacity, both H-DL and MTL are just right. The long battery life of 1500mAh makes the performance more powerful.
VOOPOO ARGUS POD KIT 40 W 1500mah
Make Airflow
System Easier
You can get the most comfortable experience through
this system no matter which kind of coil or different
parameters are set.
Multi-experience Given
by GENE.AI
GENE.AI chip can intelligently identify coil and provide a 5-40W power adjustment. Just press the "+" "-" keys to adjust.
Say Goodbye
to Battery Anxiety
1500mAh built-in battery with 5V/1A
Type-C fast charging interface, Keep your
ARGUS from morning to night.
Exclusive Hook
Explore the Distance
Whether for sports or travel, the outdoor exclusive hook made of aluminum alloy will make your ARGUS freely portable and go further with you.
Upgraded Experience of
Half-DL and MTL
ARGUS is equipped with two PnP coils of 0.3Ω and 1.2Ω, which will let you feel the abundant cloud and incredible flavor brought by the PnP coil. Tugboat Vape
Mesh Coil
PnP-TR1
Resistance: 1.2Ω
Power Range: 10-15W
Suggested E-liquid: Nicotine ≤ 35mg
Mesh Coil
PnP-VM1
Resistance: 0.3Ω
Power Range: 32-40W
Suggested E-liquid: Nicotine ≤ 10mg
Argus Mod Pod-VOOPOO VAPE Spark Your Life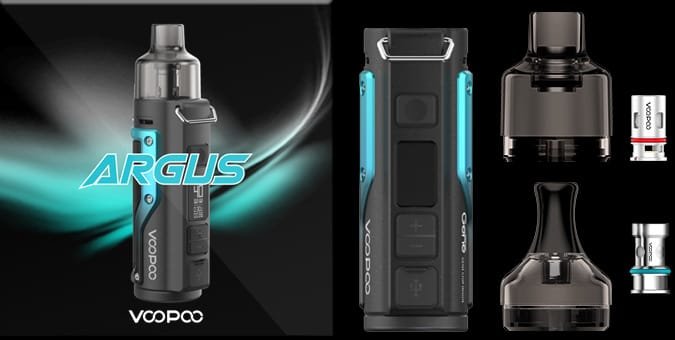 ARGUS Device *1
PnP Pod(4.5ml )*1
PnP MTL Pod(2ml )*1
PnP-VM1, 0.3Ω *1
PnP-TR1, 1.2Ω
Type-C Cable*1
User Manual*1
Next-Day Delivery for Orders Placed Before 10:00 PM.
We offer delivery every day from 10:00 AM till Midnight.
Orders placed after 10:00 PM will be delivered within 48 Hours.
We are Delivery jumeirah, Mirdif, Al warqa, Jbr, Al Stwa, Al Rashidiya, Merina All over Dubai Sharjah, Ajman, Ras al Khaimah, Al Ain ,,,,,all UAE
Shop Now Dubai vape Zone