ENERGY BAR  DISPOSABLE  6000 PUFFS  VAPE is now available in dubai vape! Cash on Home delivery is available to Abu Dhabi, Dubai, Sharjah, Ajman, Umm Al Quwain, Ras Al Khaimah, and Fujairah.
Energy Bar 6000 Puffs Price is 45.00 AED single pc and 380 AED Box(10pc)!
Specifications of Energy 6000 Puffs
Nicotine Salt 5%
Puffs 6000
Volume 14ml
Battery 500mAh
Main Features of Energy  Disposable
A lot of different flavors, Vape uae
ENERGY BAR 6000 PUFFS DISPOSABLE VAPE  Double the puffs
Battery lasts twice as long Energy Bar 6000 puffs dubai vape.
Nicotine salt means an instant dose of nicotine
Telling you it tastes great will be an understatement.
It's the perfect mix of taste and vapor production so you'll be left wanting more.
This juice is designed for the person that is always on the go with a fully charged battery.
It's not just another flavor, it's a lifestyle. kk energy 6000 puffs vape dubai.
Blueberry Ice, Cotton Candy, Double Apple, Kiwi Passion Fruit Guava, Lush Ice, Mighty Mint, Peach Mango Watermelon, Purple Rain, Red Energy, Strawberry Grape Ice, Strawberry Kiwi, Strawberry Mango, Strawberry Watermelon Ice, Sweet Menthol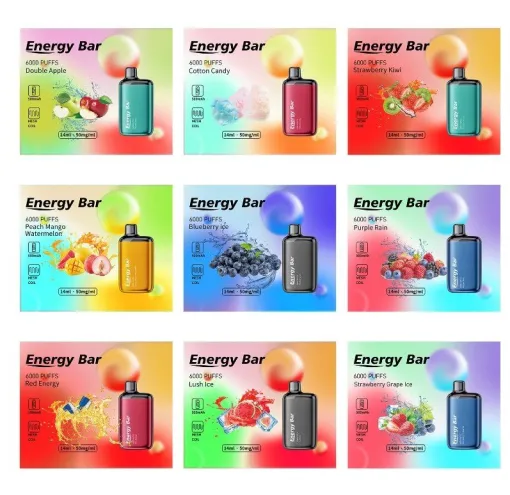 Dubaivapezone.com
Why you should buy from us:
Disposable vape
1. Fast Delivery to all UAE: We provide super fast delivery! You will receive delivery in 2-3 hours inside Dubai, Sharjah. You will receive delivery in 12 hours to all UAE! ( Order placed before 1.30 PM). 24-hour delivery to all UAE!
2. Support Team: Very fast WhatsApp team to help you 24 hours for any need!
Cash and Card Payment: You can pay by both Cash and Card!
100% Original Product: We provide 100% Original products from main supplier. We are DeliveryMirdif, Al warqa, Jbr, Al Stwa, Al Rashidiya, Merina All Dubai Sharjah, Ajman, Ras al Khaimah, Al Ain ,,all UAE